By Myles Palmer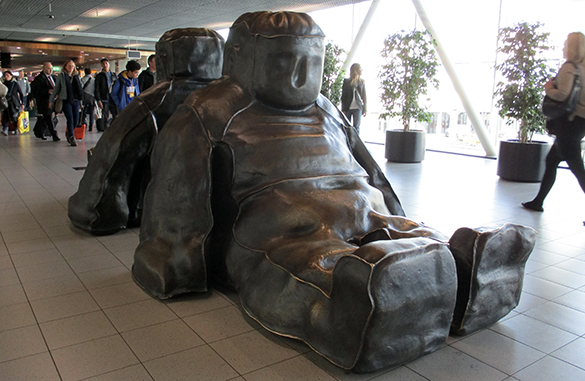 SUNDAY MORNING we get the easyJet to Schipol and walk through the arrivals hall and Jan points out a bronze sculpture of two chunky boys sitting back to back.
"Two Rooneys," I said. "I hope that's not an omen."
Check into apartment near the Amstel and read The Observer.
Richard Kurt's preview asks, "Are Arsenal just flat-track bullies who'll never make their mark where it truly counts – in European competition?"
Amy Lawrence quotes Sir Alex saying, "Players like Rooney and Ronaldo respond to a big atmosphere. Good players do. It's not just about ability, it's about temperament – how they handle the occasion."
My preview says, "I'm convinced that Fergie owes his knighthood to Arsene Wenger."
I argue that the Arsenal double team of 1998 forced Man United to improve to the point where they became good enough to win the league title, the FA Cup and the Champions League in 1999.
IN A SPORTS BAR, the DJ is playing Blondie, the Stones, the Undertones, my fajitas are spicy enough, and I'm sure Arsenal will not lose.
Vieira starts, Reyes is on the left, Pires on the bench, no Roy Keane. Phil Neville in midfield.
Kolo and Sol make good blocks, Phil Neville clips Reyes after the ball has gone, Edu fouls Nastelrooy.
Then a thrilling move splits United wide open.
Gary Neville passes to Henry, who passes to Edu and his geometric genius pass slides into Ljungberg's run and Freddie is racing straight towards the penalty spot, forcing Rio Ferdinand to take him out just in front of the D.
An NFL tackle ! It's not soccer, it's gridiron.
Centrehalves have been putting their thighs across sprinting opponents for 100 years, but it's still a foul and Rio is the last man, so it should be a red card.
Mike Riley waves play on !
Bergkamp is played into the box, but the ball squirts away from his left foot. With DB10, a bad touch means it will be a bad day.
Reyes beats Gary Neville on the halfway line and Neville tackles him from behind, missing the ball by yards. A vicious, cynical foul.
I've seen players sent off for less, many times.
But Gary Neville does not get a booking !
England's No. 1 referee has abdicated.
Today, violent conduct will be a free-kick and homicide will be a yellow card.
Then Nastelrooy goes over the ball and slams his studs into Ashley Cole's knee, an outrageous foul that could have ended Cole's career.
NOT EVEN A YELLOW CARD !!!!!!!!!!!!!!!!
Incredibly, Riley then books Cole for clipping Rooney in United's half of the field !
Phil Neville gives Reyes a dead leg, just like the Nobby Stiles of old.
It's like watching the Macho Man United of Big Bully Ron Atkinson, where they fouled the danger man in strict rotation : Bryan Robson kicks you, Remi Moses kicks you, Norman Whiteside kicks you, Kevin Moran kicks you, and then Bryan Robson's elbow smacks you in the head.
Robson, like Shearer, was captain of England, so he could never be sent off.
AS A SPECTACLE, the game stinks, since the keepers have nothing to do.
United look incapable of scoring in open play, their best shot is a free-kick by Ronaldo.
Heinze is good but Freddie skins him and sets up Dennis, who scuffs his shot wide.
When Lehmann comes out to clear by the touchline, Nastelrooy kicks the keeper craftily, a toe poke into his Achilles.
Then Sol hangs a leg out and Rooney dives over it.
Rooney has razor reflexes, good peripheral vision, sees Ashley coming to cover, knows he can't score, so he collapses over Sol's outstretched leg as the defender is withdrawing his foot.
Riley gives a penalty in 73 minutes.
A SHOCKING DECISION.
Never a penalty ! But Nastelrooy slots it for 1-0.
Cole brings down Ronaldo in the box, no penalty given. So Riley gets that one wrong as well.
RECAPITULATION :
Rio on Freddie, Gary Neville on Reyes, Nastelrooy on Cole, Sol on Rooney, Ashley on Ronaldo – 5 big decisions in the game.
Mike Riley gets all 5 wrong.
Arsenal are stretched in the 93rd minute and Rooney taps in from Smith's low cross for 2-0 .
Just before kick-off, I thought Arsenal would draw.
But to get a draw, they needed to score. So Henry and Bergkamp needed to do more in the first 73 minutes.
WE LEFT ON the final whistle.
Overall, a rubbish game, a lot of huff and puff, and quite nasty.
Didn't live up to the hype and Arsene Wenger was quite right to say that the waiting world had been let down by the low quality of the contest.
United desperately wanted to win by any means.They kicked and it worked. In the past, kicking sometimes hasn't worked, but here it did and they won 2-0.
MONDAY MORNING was windy and I bought a cap from a jolly Croatian hat-maker who had lived in London for nine years. He suggested we attend Wednesday's free concert and wrote down the address.
Monday afternoon we were in the room where Rembrandt used to paint. On the floor above, the etching of his Mum is an incredible portrait, so full of love, depth, maximum humanity.
Tuesday was the Rijksmuseum, then the Red Light District, a Malaysian restaurant, a jazz bar.
Met some kids from the film academy who had a grant from Kodak, so they were shooting a video of a rock band, their young faces alive and shining with the thrill of doing something for the first time. Their location catering was a low-key party, not a meal.
They directed us to a jazz club, Alto, but we were knackered by then and didn't make it.
Wednesday's lunchtime concert, in a plush 1,200 seat hall, was Beethoven, a dress rehearsal with the musicians in jeans, jumpers, pink skirts.
The couple next to us were just back from a City Break. "Berlin is beautiful," he said.
Amsterdam in October ? A relaxed, hip, bourgeois city of 600,000, with 300,000 cyclists, golden leaves in every canal, everybody speaking good English.
Every cafe we went in, the waitress was younger. If we'd stayed another four days we'd have been served by a nine year old.
VERY REFRESHING to have no phone calls or emails.
And this particular Sunday-Monday-Tuesday-Wednesday was a good time to be abroad.
A lesson was learned : every time Mike Riley refs Arsenal, I want a City Break.
Came home to find Rude Vain Nastelrooy banned for 3 games.
Arsene has extended till 2008 and his gifted kids beat Man City 2-1 in the Carling.
We have bought bulbs and in April we will have tulips and we'll remember Amsterdam.
By then, Arsenal will have won back-to-back titles. You can quote me on that.
October 29th 2004